MR Interviews Rusty McFarland
by Michael McCook #41
Thanks Rusty for taking the time to share some of your history with us. It's traditional to take us back to your youth and tell us how you were first turned on to motorcycling and who were the major influences in your life with regard to riding.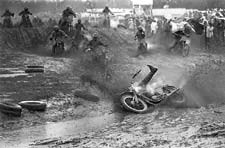 The infamous 'Crash and Burn' photo, Orlando 1973 on the Maico
My mom married my step-dad, Alex when my brother and I were pretty young. He got us into water skiing and camping and in a short time he bought us our first bike. A 68 Honda P50 moped. The one with the motor in the rear wheel. And it took off from there. Within no time we had a garage full of bikes for all of us (three step brothers came with the deal). The first bike of my own was a red Sears Sabre 50. I immediately started abusing that thing. I remember the exhaust was attached to the right footpeg. Well, every time I would go over this really big jump at our riding area, the right footpeg would break completely off, taking the muffler with it. People from miles around knew when I was jumping the little Sabre because of the god-awful racket that thing would make when it came apart! I got a Kawasaki 90 after that. Alex took us to a race just outside Memphis and I was hooked. Husqvarna's, CZ's, Bultaco's and Maicos everywhere! It was sensory overload! The next weekend I'm out there on the Kawasaki and it didn't even make it through practice. Bent the handlebars and footpegs completely off of it. A guy watching all this volunteered his G31M Green Streak and I came in third that first race with a bunch of wins right after that. As to major influences, it has to be my step dad, Alex. He's 86 now and doing great. And he's my best friend. Also, Bob McLain, who was the local Kawasaki dealer. He really took me under his wing and was a great mentor. By the way, I'm looking for a red Sears Sabre and a blue Kawasaki 90.
Great memories of a wonderful time, Rusty. So at this point you've had a taste of racing. Tell us about when you started to take racing to the next level, chasing points, the AMA district's and the tracks you've raced.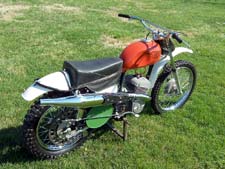 After a couple months racing that guy's Green Streak, Alex bought a 70 or 71 Penton 125 Six Days and we started traveling to local races within a 200-mile radius from Memphis and we were winning everything. Within another few months, He bought a 71 CZ 250 side-piper. At about that time, our track at Memphis had started having some pretty big races and we were getting pros from all over the country coming through. Guys like Barry Higgins, Gary Bailey, Sonny Defeo, and other guys from all over. Gary and Dewayne Jones even passed through one Sunday. I think they were on their way back to California from the Florida Winter Series. This was when Gary was running the yellow #88 Yamaha that his dad had built, a couple years before the YZ's actually came out. Well I was too young and dumb to be intimidated by these guys and not knowing any better, found I could run with them and in some cases actually beat them. Of course, it was "my track" but I didn't know enough to consider that. So we started going further and further out of our area to some of the big races where the national pros regularly ran. We did some Nationals like Lake Whitney, Sligo Kentucky, and others in Texas (maybe Waco, I think). Also a couple Trans-AMA races where we would run the 250 Support Class like Road Atlanta, and Florida. I don't remember where in Florida the Trans-AMA race was because we also did the Florida Winter Series a couple years, which included the Daytona Supercross. That first year in Florida was where the infamous 'Crash and Burn' shot came from where I fell off the Maico in the first turn at Orlando in 73 during what has to be one of the sloppiest races I ever ran. The caption read "Wow! I'm in the lead! Hope I don't f..." You may have seen it. I didn't place in many of those races, but discovered I had the speed to run with the front-runners for more than half the race before I would fade. Conditioning... or lack of it! That inspired me to start training and it helped me complete races where I had previously 'run out of gas'. I won a qualifying heat at the Talladega Supercross one year and another year lead the main for quite a few laps before I fell off. I was dueling with a local Little Rock racer named Rick Jordan and we were so involved in our own little battle, which we actually were pulling away from the likes of Rich Eierstedt, and all the rest of the factory hot shots. I also had better results in the few other big races we would run including some of the Winter Series races and other big regional races. In 74, I had just enough results in the few AMA races we ran to have earned the first national #100 when the AMA did away with their letter system for 75. Money being tight back then, we weren't able to just take off and hit the National Circuit and Trans-AMA's on a full time basis so we would concentrate on the larger regional races. We won the Tennessee State Championship in 74 on an Elsinore and then in 75, won the Mississippi State Championship on one of those yellow YZ's. That was the first year Mono-shock. That was after I had been out almost a year with a severely dislocated right elbow. (Can't straighten that arm all the way to this day) After hitting one or two more Florida Winter races, we mainly stayed close to home for the rest of my racing career. I used to get a lot of "ink" in Cycle News and other publications but there were hundreds of guys just like me all over the country. Local pros who could run with the big shots but didn't have the desire, opportunity, or finances to follow the AMA tours. There were plenty within a few hundred miles from our area. Guys like Doug Wall from Memphis (who beat me more than I beat him). Rick Jordan and Tony Wynn from Little Rock (ditto), Scott Jordan from Shreveport, and scores of others. The South was full of guys like that from Florida, Alabama, Georgia, Arkansas, and Texas. Every state in the country had guys like this we've never heard of.
Of the bikes you've raced during this time, which were your favorites and why?

Finish line jump at Desoto Cycle Ranch
Memphis 1973 on an Elsinore 250
At the time, I think my favorites were the 73 Elsinore and the 75 YZ250, mainly because they were the easiest to go fast on. They had great motors, handled OK and the brakes would actually slow you down. Now, 30 plus years later and with memories of the good and bad aspects of each bike totally blurred, I'd have to say the old CZ side-piper, the Maicos (a 250 square barrel and one of the very first 250 radials), the 72 Husky CR250 (I don't know why) and for some strange reason, that guy's Green Streak 100. I guess it was the sound that thing made. I'm looking for one of those, too.
I know you are a professional musician and play several instruments. Did your introduction to playing music coincide with your early Motocross years and tell us how you came to perform professionally.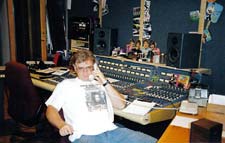 Official record producer pose at the
Hum Depot Studios, Nashville 2004
My mom and (real) dad were musicians. She played piano and was a part-time professional singer and he was a guitar player so I grew up in a house full of musical sounds and things to make noise with. I've still got my dad's old 1955 orange Gretsch Chet Atkins with the big burned in 'G' brand on the front and the 'cows and cactus' inlays on the neck. (You guitar players know what I mean!) I started piddling on the piano when I was real little and took up the guitar a little while after that so I was always a closet musician growing up. It came really easily to me as I could hear something once and pretty much just hammer it right out. I was playing Ray Charles on the piano at age four and later digging on Fats Domino and stuff like that. Then the Beatles hit and that was all she wrote. Learned all those Beatles songs on the guitar and piano and then got into other stuff like Johnny Winter, CSNY, and a bunch of goofy British art-rock. I didn't pursue it professionally until I quit racing, although I did play in a few garage bands during the last couple years of my racing days. Back when we were traveling from race to race, we had a big, yellow GMC motor home (the ones with the tandem rear wheels and the Olds 455). That thing would haul the mail! Anyway, I usually did all the driving and I would put the Yes 'Close To The Edge' 8-track in the

With A&M Records band, 'Target' in 1982 with Jimi Jamison, who later became the singer for the band, Survivor
stereo and crank it up loud and proud and put the speedo on about 90 and just JAM! (drove my mother nuts) I became intimately familiar with every note Chris Squire played on that record as well as the 'Fragile' album too. Then I went thru my 'Rush' period (like all rock bass players) and then learned about Duck Dunn (Stax), James Jamerson (Motown) and all sorts of other styles of bass playing. And of course, McCartney! I was amazed that so many different things could be done with just four strings, not only stylistically, but also tonally. So I'm thinking 'when I get tired of this, I'm gonna get me a bass and start a band'. I figured I could be in a better band with me on bass, versus me on guitar. Memphis was (and is) full of great guitar players, you know. So that's what I did. Played in some really great local bands too. I quickly discovered that the bass really controls the groove of a song more than any other instrument so I took it very seriously. Through the years, I also picked up the drums and all sorts of stringed instruments as well as kept my chops up on the guitar and keys too. Also played the saxophone (and the fool) in school. By the way, go find a copy of the first Montrose record. The one with 'Bad Motor Scooter' and 'Space Station #5'. One of the greatest rock records of all time!
What is in your current collection of instruments (brands and models) and what instrument that you once owned and parted with would you just love to get back?
As to the ones that got away, I'd like to have at least thirty of them back. An original 64 Strat, a 63 Thunderbird bass, a 64 JazzMaster, a 66 Fender Electric XII, a 70s Guild D35, a 65 Jazz Bass, tons of pre-CBS Fender Precisions and Jazzes, an early 70s Las Paul Custom. Man, the more I think about it, the more of them there are (were) and the more depressing it is!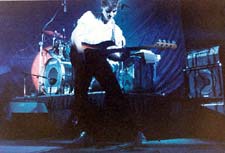 'Spanking the plank' with RCA Records band, Drama in 1985
Currently and permanently, there's the orange 55 Gretsch Chet Atkins that my dad bought new. It's still in the original tweed case and has the cowboy and cactus strap as well as the warranty papers. That guitar could never be bought! There's a 62 blonde (very yellowed) Precision with a nice wide, flat rosewood neck, a 68 Guild JF55 jumbo acoustic (Jimmy Griffith played it on most of those old 'Bread' hits), a red St. Blues electric (It's a Strat style with a Floyd Rose wanger bar and a tapped Semour Duncan Humbucker at the bridge and this weird tapped Tele small type pickup at the neck. They made them in Memphis in the late 70s. It's my main ax. I call it my 'Red-Lead-Fender-Gibson' because it does it all). There's a lot of very off the wall stuff like a couple of those Silvertones that had the amp in the case, some old lap steels, a cheap Korean gut string acoustic that sounds unreal. Also a bunch of other oddities like a high-strung acoustic, a dulcimer, a bouzouki, a Papoose (miniature acoustic) and quite a few other pieces. My main amp is a silver faced Fender Vibro-Lux. It does everything. I don't really dig any of those new-fangled multi-effects amps.
From my participation in the VMX enthusiast groups, I find that there are quite a few musicians out there. Tell us where you are today with your professional music career.

That was a very good weekend!" East Tennessee 1973 on the Elsinore
It really started when I was still playing in bands. One of the guys I played with was the premier guitarist in town and worked at a studio. He took me in there one night to do a bass track on something he was working on and I was smitten. I thought 'This is where I belong!' At the time, I was the salesman at the local Kawasaki/Yamaha shop in Memphis and I went in the next morning and gave my two weeks notice without a clue or a plan. I just started elbowing my way into the Memphis studio scene and it started working out. For the last 20 or so years, I've been a record producer / engineer / musician. Did a lot of blues and rock records when we still lived in Memphis. I became a partner in a studio down there that had a neat vintage vibe and attracted a lot of great acts. Initially we were doing all kinds of rock projects from roots rock to singer/songwriter stuff to the snot-slingingest noise you ever heard. Great fun! Then I hooked up with a big blues producer for Rounder Records out of Boston and started engineering and co-producing a lot of great (and sometimes, not) blues records. I worked with many blues and soul legends like B.B. King, Little Milton, and Al Green along with a lot of old blues guys that no one except the most die-hard blues aficionado would know. It's funny, being from Memphis, you would think I was a big blues fan but I never got into it at all. (Not much into Elvis, either) While doing those records, I learned about the history of the blues and the culture it came from. I also got to work with a lot of the great old black blues masters. I came to really dig a lot of that stuff, especially the real blues... the traditional stuff. It was very educational from a lot of perspectives. Learned how to record horns, too.
So a lot of those records wound up selling pretty well and I started getting calls from different artists all over the country to produce or mix their records. Still not entirely knowing what I was doing and being a rocker at heart, I was making blues records like I would rock records, as in bigger and louder, and had a nice run at that for a while. I also won a Grammy for a B.B.King record called 'Blues Summit' although on that one, they listed me as Rusty McDaniel. No biggie. So in 97, my partner, Greg Morrow and I decided to move the studio to Nashville, as he had already moved there and had become one of the top two or three session drummers in town. Within a year My wife, Carol, and I decided to move up there and we found a little place on a couple acres in Ashland City, about 30 miles N-W of Nashville. It's a little town on the Cumberland River and it's really nice. We love it.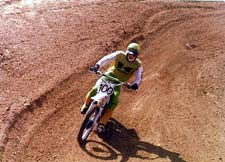 AMA National #100 at Lakeland
Motocross Park, Memphis 1975
So I moved here in 1998, just in time for the bottom to completely fall out of the music business! But I've managed to survive. I don't do a lot of main stream country stuff but I did win a second Grammy for Asleep At The Wheel's 'Ride With Bob' record. Bob Wills was the father of Texas Swing and 'Ride With Bob' was a tribute record that featured a lot of different country artists. The song we did was "Rollie Pollie" with the Dixie Chicks. Nashville also has a huge rock and pop scene and I have become very close to some of those guys so I get to work on some truly great projects like that, which is where my heart is. The one time a year that I get to hob-nob with all the big country stars is the CMA Awards show. I engineer all the pre-recorded music which is a lot more than people realize. Opening and closing themes, incidental music, etc. Plus a lot of live vocal performances with the band miming to our tracks. (Don't tell anyone!) CBS broadcasts the show live, but we record all that stuff a week or so before it airs and a lot of times, the artists will want to come into the studio and re-learn their big hits after we've finished whittling them down from 4 minutes, to 30 seconds to a minute or two, depending on how much time they're allotted. I also do quite a few great independent records, meaning smaller labels or un-signed artists. I don't do any live gigs anymore but I get to keep my chops up playing bass, electric and acoustic guitar, and keys on a lot of records. I've got a stash of vintage guitars and basses and amps to cull from. I've also really gotten into percussion and I have a big box of percussion goodies that I get to play on a lot of records I do. I also do a lot of backing vocal tracks. I've been very blessed to be able to play with the best musicians in the world.
Holy Cow! That's quite an accomplishment! Do you have any juicy stories or two about an industry Heavyweight? Don't worry, we won't tell anyone…
Nope (Grin).
Okee…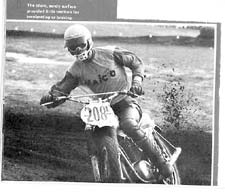 250 Maico square barrel
Florida Winter Series, Daytona 1973
Well, I've got a story (not necessarily juicy) about a Bultaco. By 1978 I was just running local races within a few hundred miles from home. I was working at the Kawasaki/Yamaha shop just south of Memphis and we sold Husqvarna's and Bultaco's too. Bultaco was blowing out a bunch of left-over 77 models so I snagged one of those blue 250 Pursang's for about 900.00. Took it out to practice about a week before the first race and the thing handled well, had decent brakes and was really fast. However, I noticed the transmission would occasionally go into neutral when downshifting from third to second. If I didn't just stomp on the shifter, it was OK. So the next weekend, there's a big race at our local track and no problems during practice. During the first heat, I'm having a serious duel with the other local hot shoe, Doug Wall, when we're coming to a pretty tight right-hander where all my friends and fans were hanging out and I'm just going for it. Well I come blasting into the corner and crank it over really hard and I'm about to blast spectacularly out of the turn in anticipation of roosting all my buddies standing beside the track and that damned Bultaco is in neutral. It just sorta lays over on my right leg with the engine going BRRRRAAAAHHHH, wide open! I felt like the guy on 'Laugh In' that used to tump over on that little tri-cycle, wearing the raincoat. Sold that piece of crap the very next week and bought a Husky.
Hmmm… I guess I'll put that 77 Pursang restoration on the back burner and ask you what's currently in your CD player!
'The Beautiful Letdown' by Switchfoot, 'Room For Squares' by John Mayer, Pat Buchanan with Greg Morrow and myself (a project that I did that hasn't been released... kinda power-pop), 'Talk' by Yes, 'SuperSonic' by The Hadden Sayers Band (another project that I did that has been released... available on his website. He's a Texas guitar slinger. I think it's a great record, personally), the Toy Matinee record, 'Belly Button' by Jellyfish. There are prob'ly a couple others but I'd have to look. Oh, and the first Montrose record too.
What bikes do you currently own and do you have plans to race Motocross again?
As of today, there's a black '01 Kawasaki ZRX1200R, red '00 Ducati Monster that's very tricked out, '05 Husqvarna TE510, '00 Husqvarna TC610 that's been dual-sporter-ized, '89 Honda CR500R that's only been ridden a couple hours (still has the Japanese air in the tires), '81 Honda Z50R, '71 Husqvarna 250 Cross (last year for the right side shifter), '69 CZ360 side-piper (all original, to be restored), '71 CZ250 side-piper (this one's been restored and was featured in VMX issue #20), and a one-off Ducati 750 dirt tracker that was built by my close friend, Eddie Wilbanks in Memphis back in '77 (to be restored). Also, there's a fairly steady stream of 'temporary' bikes that pass through pretty often. As to racing again, I'd like to do some Vintage Motocross. I got the bug a couple years ago at the Mid-Ohio vintage event they put on every July but I haven't acted on it yet. I actually built a 74 Can-Am 250 MX-2 but a guy bought it before I had a chance to get back out there. I'm thinking of an early '70s CZ400 or maybe an early '80s Husky CR430 or 500.
Where do you see the future of Vintage Motocross heading?
I think it will only get bigger as more guys get older and get back into the bikes of their youth. The vintage bike classes will get more current type bikes in them. I bet there will be a class for single shock, link type suspensions and at some point, there will may even be classes that include liquid-cooled bikes with disc brakes, though that will be quite a while off. You're already seeing more and more kids getting into it, which is great although it will 'up' the competition and make it harder for the old farts to compete but that's OK. I suspect the majority of guys out there are just into it for fun rather than winning. Hopefully, I'll get back out there pretty soon.
***